Holiday Hair Loss: How Seasonal Stress Impacts Your Tresses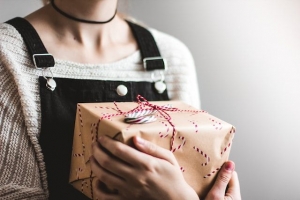 Silver bells, turkey dinners, and…holiday hair loss? The holiday season is full of fun moments from family gatherings to office parties. However, the number of events, responsibilities, and added purchases mean the holidays can also be rife with stress—to the detriment of your hair.
How Stress and Hair Are Related
Hair goes through a simple cycle of growth, rest, and release. On a normal day, you can expect to lose up to around 100 strands of hair. Stress in the form of telogen effluvium, however, can force your hair to enter the resting phase prematurely. This premature life cycle means that more of your hair falls out at one time, resulting in above average hair loss. This usually doesn't occur all at once, or even while you are experiencing stress. Your hair can be in the resting phase for up to three months, which means it could be that long before you notice any hair loss.
Avoiding Holiday Hair Loss This Season
While losing your hair isn't what you normally equate with the holidays, the added stress of the season can play a role in unwanted hair loss. Instead of worrying about the impact this year will have on your lovely locks, use these simple tips to help keep your peace of mind—and hair—intact this holiday season and into the New Year.
Schedule Time for Yourself: Rather than adding one more party to your calendar, try scheduling some time for self-care. This looks different for everyone, so whether you relax by reading a book, binge-watching Hallmark movies, or conditioning your hair—find some time for yourself in the midst of the holiday rush.
Create a Gift Budget: Holiday stress is, in part, due to the increase in spending and the pressure it puts on your finances. This year, create a gift budget and try sticking to it. While you're at it, budget in a haircut and color and treat yourself to some holiday pampering.
Know Your Options: If you're experiencing holiday hair loss and you aren't sure what to do next, there is peace of mind when you have the right resources. Holiday hair loss from stress doesn't necessarily cause long-term issues, but if your hair loss does persist, you are not alone. Check out Transitions Hair Loss Centers' great resources, natural products, and hair-loss solutions.
Take care of your hair this holiday season by taking care of yourself! When you feel stress influencing your holiday cheer, take some time to slow down, relax, and enjoy this special time of year. Your hair will thank you. If you are experiencing hair loss, contact us today to schedule a free, private consultation and find out which hair loss solutions will help you restore the great looking hair you deserve.
Sources:
https://www.mayoclinic.org/healthy-lifestyle/stress-management/expert-answers/stress-and-hair-loss/faq-20057820
https://www.ncbi.nlm.nih.gov/pmc/articles/PMC4606321/
Latest posts by Roger Parker
(see all)
https://tupelohairloss.com/wp-content/uploads/2022/10/telogen-efflufium-holiday-female-hair-loss-tupelo-ms.jpg
427
640
Roger Parker
https://tupelohairloss.com/wp-content/uploads/2018/08/north-mississippi-tupelo-hair-loss-restoration-studio.png
Roger Parker
2022-10-17 13:24:51
2022-09-01 13:45:43
Holiday Hair Loss: How Seasonal Stress Impacts Your Tresses