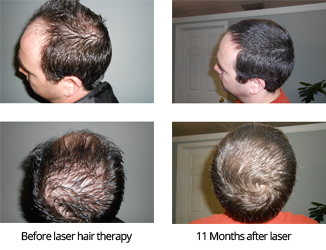 If you are struggling to cope with hair loss, you're likely familiar with the sea of hair loss treatments claiming to regrow your hair. While some treatments can reverse hair loss, others have harmful side effects or ingredients that can irritate the scalp, leading to dandruff, dry scalp, or allergic reactions. However, there is a drug-free hair loss treatment that can help to alleviate hair loss without the harmful side effects.
Laser hair therapy is one of the latest non-surgical approaches to treat thinning hair, hair loss, and other problems associated with the scalp and has thus far shown to have a positive effect on decelerating the effects of hair loss.
The revolutionary treatment can improve hair volume and hair shaft quality, helping to ease the anxiety associated with hair loss. Continue reading to learn more about how laser hair therapy works, as well as some of the benefits and caveats associated with the treatment.
How Do Laser Treatments Work?
Laser hair loss treatment therapy works through the use of therapeutic low-level lasers, which deliver light energy directly to the scalp, increasing blood flow and stimulating hair growth. During treatment,  a device is placed over the scalp and the low-energy light is delivered directly to the affected areas. It's important to note that laser treatments do not use thermal energy (heat) to treat the scalp and it's not painful at all. In fact, our clients are able to sit comfortably during therapy, often while perusing a magazine or relaxing.
What Are The Benefits Associated With Laser Hair Loss Treatments?
Both men and women in the early stages of hair loss can benefit from these types of treatments. The treatment is safe as it uses low-level lasers, which meet all international safety standards and legislative specifications of a "non-significant risk" product. Laser therapy has been shown to be quite effective in both men and women when used in conjunction with hair transplant surgery as well as other hair loss treatment procedures.
Here are a few of the benefits associated with laser hair loss treatments:
Increases the blood supply to the scalp after only one treatment
Stimulates hair follicles
Fuller, shinier, softer, and thicker hair
No adverse effects have been reported
It requires minimal time commitment
Increased hair strength and elasticity
Who Is Laser Hair Loss Treatment Best Suited For?
Unfortunately, this therapy method isn't suitable for everyone with hair loss. In fact, it's always wise to consult with your doctor or a trained specialist before you undergo laser hair therapy treatments.
The reason for this is simple: if a thyroid problem or iron deficiency is causing your hair loss, laser treatment will offer little to help you. Laser hair therapy is primarily used to potentially treat hair loss that's caused by genetics (a.k.a. pattern balding or androgenetic/androgenic alopecia).
An Evaluation By A Trained Hair Loss Professional Is Essential
If you're concerned and ridden with angst over hair loss, it's crucial that you get evaluated in-person by a trained hair loss professional as laser hair loss treatment programs are only effective if you have enough living hair follicles.
Confidential Hair Loss Evaluation
We invite you to schedule your free, confidential hair loss replacement consultation today. Meet with a trained hair restoration professional at our state-of-the-art hair replacement center in Tupelo, Mississippi.
At North Mississippi Hair Loss Solutions, we offer a variety of laser hair loss treatment programs.  If after a thorough hair loss evaluation, we determine that you are a viable candidate for this type of treatment protocol, we will make a recommendation based on the outcome of your consultation.
Say Goodbye to hair loss anxiety once and for all. Call (662) 842-1222 today.
https://tupelohairloss.com/wp-content/uploads/2021/10/laser1.jpg
533
709
Roger Parker
https://tupelohairloss.com/wp-content/uploads/2018/08/north-mississippi-tupelo-hair-loss-restoration-studio.png
Roger Parker
2023-07-14 11:14:27
2023-08-21 09:21:40
Laser Hair Therapy for Hair Loss: How Effective Is It?