When Is The Best Time to Start Hair Loss Treatment?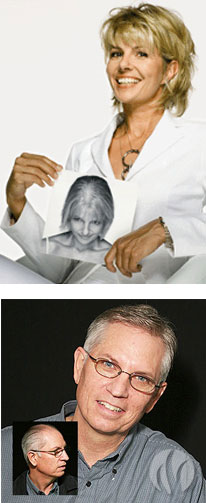 Legions of men and women suffer from thinning hair and hair loss, yet it's not always easy to decipher when it's time to opt for hair restoration.
According to Statistic Brain, approximately 35 million U.S. men and 21 million U.S. women experience hair loss; however, only 811,363 hair loss sufferers worldwide seek professional treatment (Source).
We understand taking the first step in seeking treatment is difficult, especially if you are still in the early stages of hair thinning or loss, or if you are unsure how to go about it. Acting sooner than later is a great way to slow hair loss, and in some cases, even prevent it from progressing further. Remember, there is nothing wrong with wanting to look and feel your very best. It's never too early or too late to realize that you can do something to combat your hair loss.
This post explores your options if you are just beginning to lose your hair or are worried about losing your hair in the future.
The Impact On Self-Image & Self-Confidence
Loss of self-confidence and the desire to feel good about oneself again is perhaps the most common reason our patients opt for the procedure. For some people it may seem superficial, yet human beings naturally yearn for that unique feeling of being self-assured and desirable. Our patients have claimed that having a full head of hair not only improves their physical appearance, it also helps reduce their sense of helplessness and anxiety.
As many studies have suggested, confidence plays a major role in a person's ability to be successful, whether it's related to one's career, dating, friendships or social life.
Far too many patients we've consulted with over the years acknowledge that the gradual onset of prolonged hair loss and its seemingly irreversible consequences has affected their self-esteem. In turn, this makes them feel more self-conscious about daily personal interactions. These dark feelings can lead to withdrawal from everyday social activities and can be a cause for hesitation before considering new business opportunities.
If you feel as though having hair will help you gain a more positive outlook on life and achieve a more outgoing demeanor, you should absolutely consider speaking to a hair restoration specialist about your various options, including hair transplant surgery, non-surgical hair replacement and – if you are in the early stages of hair loss – FDA cleared low level laser hair therapy as soon as you feel comfortable doing so.
Visiting A Hair Loss Professional for an Evaluation is Crucial
As soon as you notice the first signs of thinning hair or hair loss you should visit a dermatologist, a Trichology specialist or a hair loss professional.  They will be able to assess your situation and help you to determine the best plan of action going forward. Genetic hair loss is typically caused by testosterone combining with other enzymes to form dihydrotestoserone commonly known as DHT.  DHT gets into the hair follicle and blocks the hair shaft from growing properly.  The hair shaft begins to miniaturize until finally blocking the follicle from producing hair. It's important to keep in mind that this is not an instant process; rather, it happens over years, even starting right after puberty.
Advancements in medicine and advancements in technology have made treating the symptoms of hair loss a successful solution plan.  A good hair retention plan starts with early treatments. Remember: prevention is easier than correction.
Consider Laser Hair Therapy If You're In The Beginning Stages Of Hair Loss
Do you experience signs of thinning hair and are anxious that you will continue to lose more? If you're nodding in agreement, you may want to look into laser hair treatment. Laser hair loss treatment is a maintenance program that works to slow down thinning hair and in some cases has stopped hair loss in its tracks.
Low-level laser hair loss treatment is a non-chemical, non-surgical treatment for men suffering the devastating effects of hair loss, helping them to achieve the appearance of thicker, fuller, shinier, and healthier looking hair. It's recommended to initiate laser hair loss treatment as soon as a person sees signs of thinning hair, as individuals in the early stages of hair loss tend to have better results.
Benefits of Laser Hair Treatments:
Increases the blood supply to the scalp after only one treatment
Stops the progression of hair loss in 85% of patients.
Stimulates hair follicles
Fuller, shinier, softer, and thicker hair
No adverse effects have been reported
It requires minimal time commitment
Increased hair strength and elasticity
Physicians have shown broad acceptance of this technology as an effective treatment for both men and women suffering the devastating effects f hair loss. With laser hair therapy, you can achieve thicker, fuller, shinier, and healthier looking hair.
The Benefits Of Gradual Hair Restoration
While some people want their hair back as quickly as humanly possible, a sudden drastic change isn't right for everybody. In these cases, it may be prudent to look into gradual hair restoration, an option that works to attract attention to your new look not your hair replacement.
With gradual hair restoration, your full hair replacement is completed in stages over the course of a few months— the stylist will subtly add more new hair each time. You may still receive questions from coworkers, but people won't be able to tell what you're doing. Essentially, it's a great method if you want to keep your hair restoration efforts discreet while enjoying immediate results.
Confidential Hair Loss Evaluation
We invite you to schedule your free, confidential hair loss replacement consultation today. Meet with a trained hair restoration professional at our state-of-the-art hair replacement center in Tupelo, Mississippi.
At North Mississippi Hair Loss Solutions, we offer a variety of laser hair loss treatment programs.  If after a thorough hair loss evaluation, we determine that you are a viable candidate for this type of treatment protocol, we will make a recommendation based on the outcome of your consultation.
Say Goodbye to hair loss anxiety once and for all. Call (662) 842-1222 today.
Latest posts by Roger Parker
(see all)
https://tupelohairloss.com/wp-content/uploads/2018/09/ps1.jpg
417
562
Roger Parker
https://tupelohairloss.com/wp-content/uploads/2018/08/north-mississippi-tupelo-hair-loss-restoration-studio.png
Roger Parker
2021-09-21 08:53:48
2021-12-07 16:43:24
When Is The Best Time to Start Hair Loss Treatment?