Don't Let Hair Loss Keep You From Enjoying the Holiday Season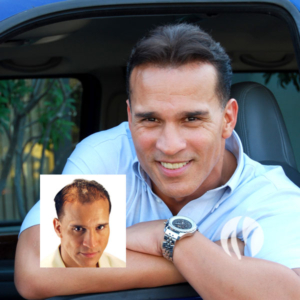 One of my favorite times of the year has to be November through January. From Thanksgiving to Christmas, New Years and beyond give you so many opportunities to spend quality time with friends and family, enjoying special times together and creating memories to last a lifetime.
For me, it has been several years since I have been able to go back home for any of the holidays. Life and distance have just gotten in the way and just made going home complicated.
A couple of years ago I made the decision that I just had to get back home for the holidays and see family and friends again. I have missed seeing them in person and reminiscing with telling stories, laughing and of course the food.
The thought of going back home was actually bitter-sweet. Yes, the opportunity to see everyone was exciting but I couldn't help feeling a little nervous about how they would see me after all this time. I have had a lot of thinning hair develop over the last couple of years. The thought of seeing dread on those familiar faces made me a little unsettled.
Getting downright nostalgic, I started looking at old photos. To see everyone, including myself over the last decade really made me take notice of how much my own hair has changed. Just how much hair loss I have had made me sad. Once again, I started dreading even more seeing everyone's faces and the sad looks from them on my hair or lack thereof.
I decided I couldn't deal with the thought of not doing something about my hair loss before going back home. I started researching online on hair loss treatment and hair replacement studios in Mississippi near me. I found one near me and I made an appointment for a free hair loss consultation.
During my appointment, they examined my scalp and bald spots, asked about my family history. I not only started to feel like there was hope but the people at North Mississippi Hair Loss Solutions took my anxiety away as they discussed the treatment options they thought would work for me and the type of hair loss I was experiencing.
I wanted to have hair that was similar to what I had seen on myself a decade ago. Hair that was fuller, and healthy. I made the decision to go forward as I really didn't have anything to lose.
When it was time for me to come back in for my hair replacement, I was literally blown away and couldn't stop smiling. Once they started putting it on, my appearance changed so much before my own eyes.
Looking in the mirror I couldn't believe that in just one afternoon I was looking at myself again with a full head of hair. As I ran my fingers through the hair there was no difference. It was my hair again.
When the time came and I was back home, not a single person glanced at my hair. I really didn't expect them to but I was so glad to see they saw me in the way I wanted them to. I know deep down my friends and family wouldn't care how much hair I had. They would just be happy to see me.
It was more of an internal struggle and how I saw myself and that affected my self-confidence. I never gave my hair another thought and my visit back home for the holidays that I was so excited for was absolutely great.
If you suffer from hair loss don't let the anxiety keep you from enjoying this time of year and getting together with the ones that you love. At North Mississippi Hair Loss Solutions our hair loss specialists will help you, so you can have the hair you want and get your confidence back. Call today to schedule a free hair loss consultation and see what we can do for you.
Latest posts by Roger Parker
(see all)
https://tupelohairloss.com/wp-content/uploads/2021/11/2.jpg
467
700
Roger Parker
https://tupelohairloss.com/wp-content/uploads/2018/08/north-mississippi-tupelo-hair-loss-restoration-studio.png
Roger Parker
2021-11-09 10:46:40
2021-11-09 11:21:14
Don't Let Hair Loss Keep You From Enjoying the Holiday Season