Top Natural Ways to Treat Your Hair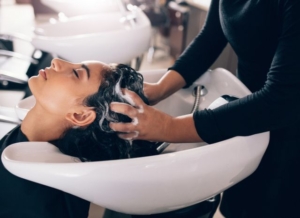 We all have those bad hair days, where nothing stays in place. Natural hair also gets damaged and loses its luster from time to time. Other factors such as chlorinated pool water or the dry and cold winter air even cause such conditions.
Revitalizing salon treatment is often the most viable solution. However, as this short article will reveal, there are plenty of D.I.Y. natural hair treatments. Here is a roundup of some of the most effective natural remedies for healthy hair.
Natural Aloe Vera Hair Conditioner
Aloe Vera juice is the secret sauce you need to keep hair hydrated for longer. Chockfull of minerals and vitamins, aloe Vera, extracts also soothe itching while boosting the scalp's healing process.
All you need to do is apply a liberal amount of the gel and allow it to sit for 30 minutes. If you don't care for the strong smell, you can apply the gel directly on to the hair for a 15-minute soak.
Vinegar for Dry Hair
White vinegar boosts your natural hair's shine by closing the cuticles. Such treatments make highlights more prominent by re-balancing the pH effectively, reducing the production of excess sebum and dandruff. A strong odor and scalp irritation are major drawbacks, so you should opt for diluted treatments.
Coconut Oil Revitalization
Coconut treatments are packed with proteins that prevent breakage and protects hair fibers while keeping them supple. Aside from the enchanting smell, it's also proven to be effective at penetrating hair follicles. For in-depth treatment apply to the root, let it soak for 20 minutes and wash.
Eggs Are Truly Incredible Hair Treatments
Eggs are nature's best-kept hair treatment. The yolk has natural moisturizing fats and proteins, while the white has enzymes that feed on bacteria. To treat brittle hair, use the yolk, for oily hair, the white, and you can use the whole egg for normal hair.
Honey
The sugar enzymes found in honey release hydrogen peroxide that enhances hair highlights. Honey also repairs superficial hair layers and evens down cuticles. Please avoid spreading honey liberally as it would need more shampoo to rinse your hair.
Onion Juice
This juice has anti-bacterial properties that prevent scalp infections, hydrate the hair while promoting growth. Such an ingredient also prevents premature greying. This juice also adds body to the hair rids of dandruff, fungal infections and scalp acne.
Regardless of the treatment you use on your hair, it is important to take good care of your locks which can help prevent hair loss later in life. If you are suffering from hair loss contact us to schedule a free, confidential appointment.  We will work one-on-one with you to help deterine the cause of your hair loss, the extent of hair loss, and find the best solution for you to get your hair back and live the life you deserve.
Latest posts by Roger Parker
(see all)
https://tupelohairloss.com/wp-content/uploads/2019/02/1salon.jpg
466
640
Roger Parker
https://tupelohairloss.com/wp-content/uploads/2018/08/north-mississippi-tupelo-hair-loss-restoration-studio.png
Roger Parker
2022-09-12 12:07:01
2022-09-01 15:14:09
Top Natural Ways to Treat Your Hair