Spring Hairstyle Trends: Tortoise Shell Hair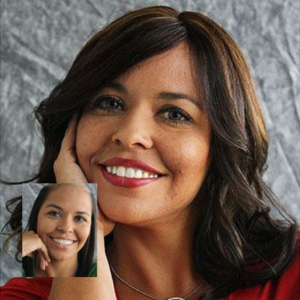 The spring season is a great time to freshen up your look — and one of the best ways to do so is with a new hair color. The ombré trend is on its way out; taking its place as the hottest color trend of the season is ecaille, or tortoiseshell. Celebs who are rocking the trend already include Jessica Alba, Lauren Conrad, and Gisele Bundchen.
What Is Tortoise Shell Hair?
The tortoiseshell hair trend was inspired by the pattern of the same name; it has mottled shades of brown and gold and is commonly used for eyeglass frames. Think soft hues of chocolate brown, caramel and golden honey woven together for a look that's natural yet polished. Tortoiseshell refers more to the colors used than the placement — color can be started a few inches from the roots or farther down for a modern interpretation of the ombré trend.
How to Achieve Tortoiseshell Hair
Whether you're working with a wig or your own hair, the tortoiseshell look can be achieved at the salon or — if you're the DIY type — at home.
If you're going to the salon:
Bring along photos that represent the look you want. It's perfectly acceptable to save photos on your smartphone or tablet and show those to your stylist. Although your hair may not look exactly like the photo, it gives your hair professional a clear idea of how subtle or bold you want your color.
That's one of the best things about this trend — it's versatile. You can go heavier on dark tones with a few bronze or caramel strands woven through, or you can keep the color lighter by accenting medium and light shades of brown with dark chestnut strands. If you prefer a more natural look, ask your stylist to "melt" the colors together so that there's little contrast between them. If bold is more your style, request light honey-gold tones to be placed next to darker tones so the colors stand out.
If you're coloring your own hair:
Start with a permanent base color that's either medium or dark brown, then choose two or three lighter shades in the same color family. Opt for warm or neutral tones rather than ash colors.
Apply your base color as directed by the package instructions. Once the dye has been washed out and your hair has been dried, you can move on to the next step, which is applying the ribbons of color.
When preparing your contrast colors, use bowls that are specially designed to hold hair dye (check your local beauty supply store) and apply the color with a balayage brush. Unlike the highlighting kits of the past, doing your own tortoiseshell color doesn't require a cap and hook.
Simply choose the strands you want to color, then paint the dye onto each strand. Alternate color placement so that the finished product is multifaceted. For a gradual, effortless look, start the placement of the highlight colors at the midpoint of your hair. Placing light strands around the face creates a youthful look and brings attention to the eyes.
How to Care for Tortoise Shell Hair
Tortoiseshell hair color doesn't require a lot of upkeep, which is one reason why it's so popular for spring. Instead of touching up your roots once a month, it's likely you can go several months before needing a color refresh. To keep your color vibrant, use a shampoo and conditioner formulated for color-treated hair, and don't shampoo every day. After styling, mist hair with a hairspray or shine spray that has UV protection, which helps keep color from fading.
Don't let hair loss keep you from achieving the look you want this spring season. Contact us today to learn about our hair replacement solutions. We also offer wigs to give you an effortless new style.
Latest posts by Roger Parker
(see all)
https://tupelohairloss.com/wp-content/uploads/2019/09/womens-hair-loss-wigs-toppers-tupelo-ms.jpg
432
432
Roger Parker
https://tupelohairloss.com/wp-content/uploads/2018/08/north-mississippi-tupelo-hair-loss-restoration-studio.png
Roger Parker
2023-02-17 14:01:58
2023-02-22 12:04:26
Spring Hairstyle Trends: Tortoise Shell Hair