Beautiful Wigs for Chemotherapy Patients
Stylish Wigs After Chemotherapy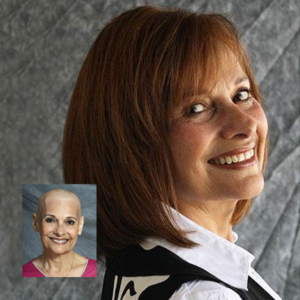 When your world changes following a cancer diagnosis, there is so much to think about. One of the big worries for patients having chemotherapy is hair loss, a major side effect of having some of the powerful drugs. But if you thought you were destined to wear a shapeless rug on your head, then think again. Times have changed, and there are now some really stylish options for people faced with hair loss.
Plan Ahead
Once you know you are having chemotherapy, start planning for the day when you lose your hair. This means you can try wigs and think about the style and shape you want, so you are prepared. You'll also have time to find a good wig supplier, and consider options like a real human hair wig or another non-surgical hairpiece.
Real Hair or Synthetic
Synthetic wigs are bought from suppliers and are ready to wear. Some look just fine, but others have that plastic feel. Additionally, many of these wigs cannot be styled with heated tongs as the plastic will melt. Real hair wigs are more versatile and can be colored and styled to suit your needs. They can also be shaped with heated rollers and look very realistic. There are also some newer brands of synthetic wig that are very realistic looking and are heat resistant.
Get Styled
Once you have your wig, our hair loss specialists can style it for you. Gone are the days of tight curls and artificial looking bobs. These days, you can opt for a punk style or a layered look that is both youthful and fashionable. In fact, there's so much that can be done with styling, that you'll find yourself constantly being complimented on your hair. That's a great confidence builder, and just when you need it the most.
With today's technology, you can have a non-surgical hairpiece as a longer-term solution to hair loss. This takes longer to organize, so you will need to plan ahead; you might also need a wig as an interim solution. Hair can be expertly styled and colored to suit your requirements. These can be worn whilst swimming, exercise, and even sleep in it. A similar custom-made approach requires the hair to be fixed to a base, which then worn over hair growth.
When you start planning for your wig or hairpiece, take a look at all the options available to you. A good wig with a stylish appearance will boost your confidence and you'll look and feel better for it. We invite you for a visit with one of our Hair Loss Specialist to go over all the options that are available to you and your needs. Schedule your free consultation today.
Latest posts by Roger Parker
(see all)
https://tupelohairloss.com/wp-content/uploads/2019/09/womens-non-surgical-hair-replacement-tupelo-ms.jpg
432
432
Roger Parker
https://tupelohairloss.com/wp-content/uploads/2018/08/north-mississippi-tupelo-hair-loss-restoration-studio.png
Roger Parker
2021-04-14 08:05:14
2021-05-10 12:45:07
Beautiful Wigs for Chemotherapy Patients